Nuaware Partners with LaunchDarkly: To Make Modern Software Development More Accessible
August 1, 2023
Will be doubling down on the support for LaunchDarkly's growth in UK and EMEA regions
Modern software development has evolved to be much more agile, efficient and responsive to today's rapidly changing markets and businesses. This especially holds true when considering the rise of areas like DevOps and DevSecOps, among others. However, modern software, despite its advances, was supposed to be the foundation for a thriving digital business. Yet, reality has proven otherwise. Slow, inefficient development cycles, costly outages, and fragmented customer experiences are preventing developers from building their best software.
The LaunchDarkly platform helps developers innovate on new features faster while protecting them with a safety valve to instantly rewind when things go wrong. Developers can target product experiences to any customer segment and maximise the business impact of every feature. By gradually rolling out new application components, they escape nightmare "big-bang" technology migrations. Developers at the most innovative companies, including 20% of the Fortune 500, build their best software with LaunchDarkly.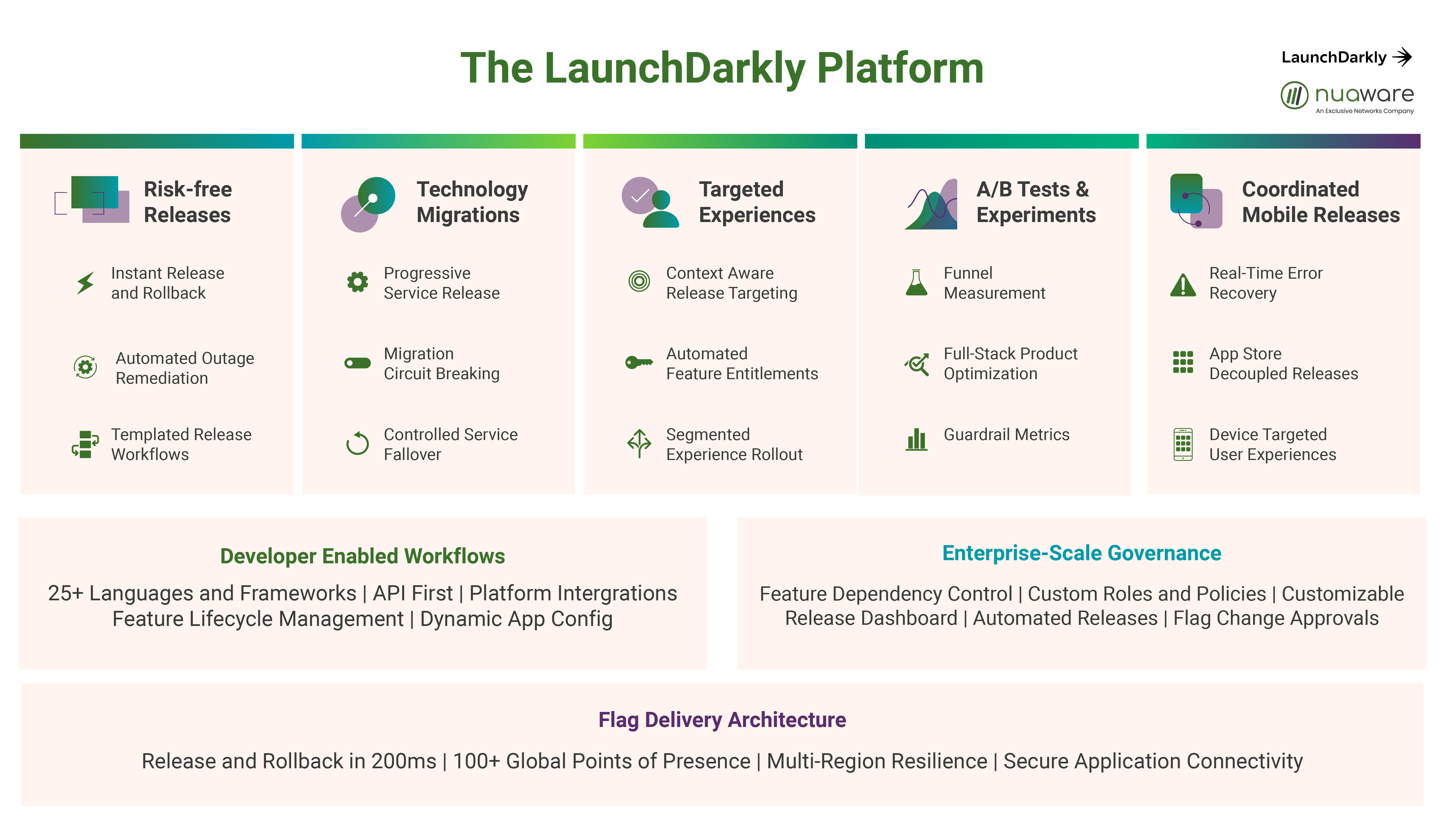 About the Partnership
Nuaware is thrilled to collaborate with LaunchDarkly, the feature management platform, and help deliver fast and reliable applications for the digital world. We support LaunchDarkly's approach of enabling developers to control the code and feature flags of their applications—resulting in more agility, happier customers, lower risks and better performance.
"Having previously worked with Nuaware, I have seen first-hand the impact that they can help generate. Nuaware is renowned for its instrumental ability in building foundational partnerships, driving broader market awareness and expanding reach to end customers," said Mark Mason, Head of International Partner Sales at LaunchDarkly. "I'm excited to see the results when Nuaware's capabilities are coupled with the power of LaunchDarkly that helps developers with faster releases, reduced issue resolution times, and ultimately helps them build their best software."
Our support
Nuaware will be acting as a go-to-market partner for LaunchDarkly in the UK and EMEA market. We will be assisting them reach new partners and customers across the region. We hope with our new partnership, that we add a new catalyst to all digital transformation efforts across the region.
How LaunchDarkly adds to our portfolio
Nuaware has a strong portfolio of specialised DevOps vendors, many of whom are LaunchDarkly's close partners. This allows us to offer our partners the LaunchDarkly Feature Management Platform as part of your solutions, along with other complementary tools, to make software releases more safe, and incident-free.
We enable you to unlock modern software development with de-risked releases, faster and safer technology migrations, deliver customised experiences to users (without draining valuable engineering time), facilitate easy product experimentation, and deliver more coordinated mobile releases.
Want to get started with LaunchDarkly?
Are you interested in learning how Launchdarkly can create value within your organisation? Book a demo today: https://www.nuaware.com/launchdarkly
Are you a partner interested in offering LaunchDarkly to your customers and in integrating "feature management" into your Go-to-market strategy? Book a call to learn more about the Partner Program and the benefits of becoming a foundational partner: https://www.nuaware.com/partners